Metal X
メーカー : Markforged
造形方式 : ADAM
主な使用材料 : Copper, Inconel®︎, etc.
材料の形状 : metal filament
造形サイズ : 300x220x180mm
価格 : Please contact us
カタログダウンロード
Metal X is a metal 3D printer that uses the ADAM method (atomic diffusion additive manufacturing). Our proprietary technology that combines Fused Fused Layering (FFF) and Metal Powder Injection Molding makes it possible to mold metal parts with a maximum density of 96%. Since it uses a filament containing metal powder, it can be used safely without the risk of dust explosion. In addition, the material is abundant, and the ability to print pure copper is a major attraction of Metal X. Compared to conventional metal 3D printers, we can achieve metal printing with the initial investment reduced to about one-tenth.
Share
View full details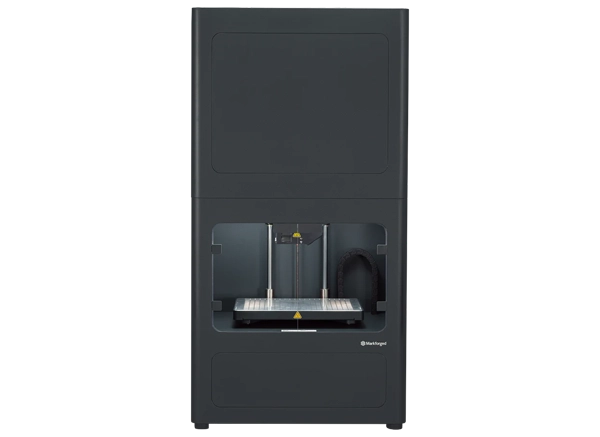 [Features of Metal X]
Compatible with a wide range of materials from tool steel to copper

Eliminates risks such as dust explosions by using metal powder that is a mixture of resin and wax

Easy to operate with proprietary Markforged software


[Post-processing of 2STEP]
Ancillary equipment that brings out the characteristics of materials to the maximum Metal X is a set of washing equipment "Wash-1" and sintering equipment "Sinter-2".

Wash-1
Wash-1 is a debinding device that removes the primary binder (bonding agent) by immersing the parts in a special liquid. The part becomes semi-porous and the remaining binder is removed during the sintering process. This debinding step cleans the final part and keeps the sintering furnace clean.

Sinter-2
Sinter-2 is a large incinerator suitable for large parts and batch production. After washing with Wash-1, many parts can be sintered, which greatly improves production efficiency.
製品名

Metal X

メーカー

Markforged

国名

America

造形方式

ADAM

本体サイズ

575x467x1120mm

本体重量

75 kg

使用可能材料と形状

・Stainless steel: 17-4PH (SUS630) ・Copper ・H13 tool rope (SKD61) ・Inconel 625 ・A2 (SKD12) ・D2 (SKD11)

ノズル径

-

積層ピッチ

0.05mm, 0.125mm

造形速度

-

電源

100-240VAC, 150W

消費電力

2400W

スライサーソフト

Eiger™

TDSダウンロード