LC Magna
メーカー : Photocentric
造形方式 : DLP
主な使用材料 : Draft, Durable, etc.
材料の形状 : resin (liquid)
造形サイズ : 510x280x350mm
価格 : Please contact us
カタログダウンロード
Photocentric's LC Magna has a large molding area of ​​510 x 280 x 350mm, enabling high-speed, high-precision large-scale molding and mass production. Equipped with the patented "Blow-Peel technology", stable molding is possible. We support various industries and applications such as prototyping, dental aligners, automobile parts, and figures.
Share
View full details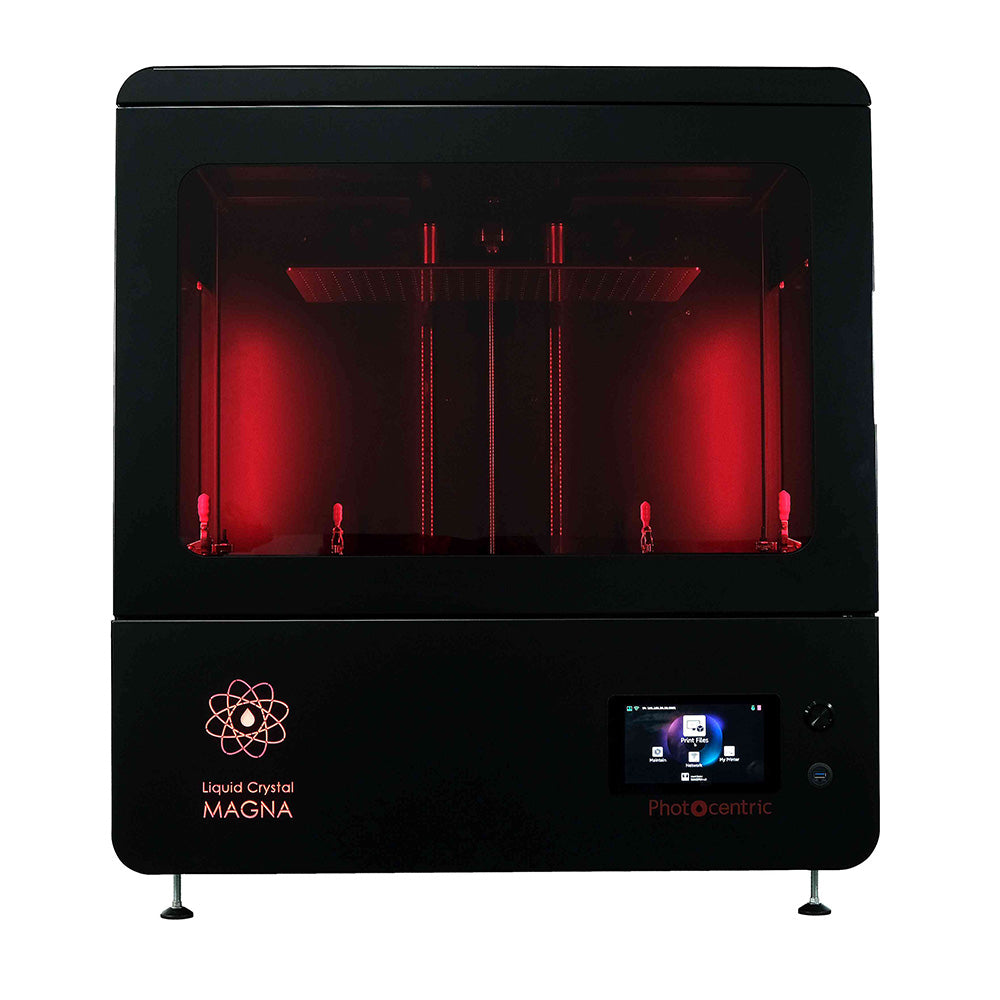 [Characteristics of LC Magna]
510 × 280 × 350 mm large size molding is possible

The molding speed is faster than the SLA method, and the maximum molding height is 16mm per hour, making it ideal for mass production.

Inexpensive resin and fewer consumable replacements keep operating costs to a minimum, and are very competitively priced compared to conventional injection molding.

Dedicated resin cleaner can produce higher performance than IPA, and can be used safely and comfortably because it is nonflammable.

[Blow-Peel Technology]
Blow peel technology is a patented technology used by LC Magna. The problem with stereolithography 3D printers is that the modeled object sticks not only to the bed but also to the vat containing the material, resulting in a failed model. The print must be lifted off the bottom of the vat to allow fresh resin to enter for the next curing cycle. The following actions will allow you to separate the modeled object cleanly.

Print layer material hardens

Air is sent under the bat with an air pump to separate the bat film and the liquid crystal.

Remove air from pocket between batt film and screen, ready for next layer

[LC Magna Workflow]

Load your CAD files into Photocentric Studio and have them ready for printing in just a few clicks.

Blow-Peel technology is used to realize stable molding layer by layer.

Clean the printed part and remove excess resin.

Harden the part and make it ready for use.
【Photocentric STUDIO】
Create modeling data with the dedicated software "Photocentric Studio". It supports a large number of CAD formats and has many functions that help efficient production.

Increased productivity: Automated batch processing allows you to get the most out of your platform. Orient, move, scale, copy and mirror 3D models automatically and manually.

Optimized Automatic Support Generation: Provides an optimized automatic support generation algorithm to minimize software preparation time. Automate with ultra-fast multiprocessing. In addition, it is equipped with pre-set support profiles according to the type of resin and the shape of the part.

Automatic detection of critical support areas: Automated analysis tools identify where support structures are needed. In addition, it is equipped with a multi-platform to support large-capacity modeled objects.

Drain holes, recesses, and infills: Models such as drain holes, recesses, and infills can be optimized to reduce resin usage. Increase success rate, save material and reduce weight.

[Post-processing of 2STEP]
Ancillary equipment that maximizes the properties of materials LC Magna comes with a set of cleaning equipment "Air Wash L" and curing equipment "Cure L2". A cleaning device efficiently removes excess resin, and a curing device strengthens the molded object to achieve higher quality.

Air Wash L
Designed for mass production and can be cleaned effectively with an air agitation system and resin cleaner

90L washing unit

Easy to set up and user friendly

Millions of air bubbles come into contact with the modeled object and thoroughly clean it
Cure L2:
Allows the build plate to be effectively cured with both light and heat

By operating the digital timer, it is possible to easily set the curing time that varies depending on the material.

Maximize material properties by finishing with secondary curing

[Photocentric Resin Cleaner]
Photocentric resin cleaners have been developed for optimal cleaning of parts printed on Photocentric machines. Parts with a special resin cleaner can be cleaned even in complex shapes and hard-to-reach gaps, and the surface can be finished very cleanly compared to cleaning with IPA. In addition, it is easy to handle because it does not correspond to dangerous goods and the frequency of replacement is low.
製品名

LC Magna

メーカー

Photocentric

国名

England

造形方式

DLP

本体サイズ

850x650x950mm

本体重量

110 kg

使用可能材料と形状

・Dental model
・Hard
・Drafts
・High Temp DL400
・Rigid DL240 Plant-Based
・Durable
・Duramax
・DL110H
・Flexible DL220B
・Part of materials manufactured by BASF

ノズル径

‐

積層ピッチ

0.025 - 0.3mm

造形速度

16mm/h

電源

110-240VAC, 50/60Hz

消費電力

Up to 1300W

スライサーソフト

Photocentric Studio

TDSダウンロード