LC Opus
メーカー : Photocentric
造形方式 : DLP
主な使用材料 : UV High Tensile, Flexible UV160TR, etc.
材料の形状 : resin (liquid)
造形サイズ : 310×174×220mm
価格 : Please contact us
カタログダウンロード
Photocentric's LC Opus supports sizes up to 310 x 174 x 220 mm and cures in astonishingly two seconds per layer, enabling high-volume parts to be built quickly and accurately. Masu. With high reproducibility and simple operability, this 3D printer is easy to use even for beginners.
Share
View full details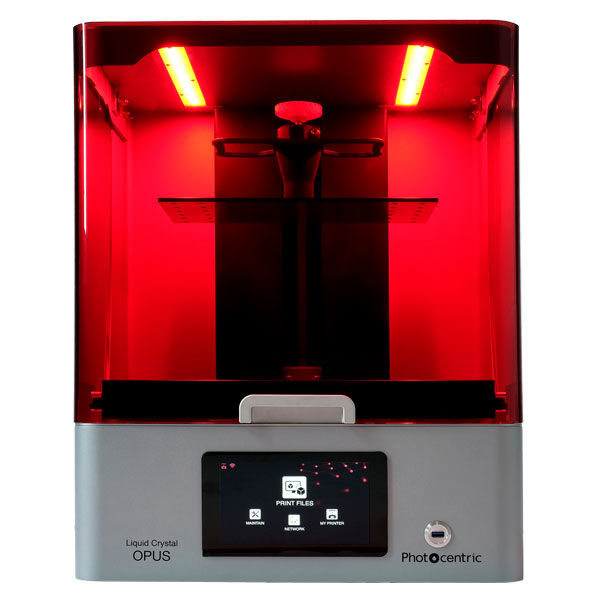 [Characteristics of LC Opus]
A 3D printer that satisfies both beginners and experienced users with simple and easy-to-understand operations.

Highly reproducible and adopts patented "Vat-Lift" technology to achieve stable molding

Compared to the SLA method, each layer hardens in 2 seconds, making it possible to print large quantities at high speed. safer and more comfortable to use
[Vat-Lift Technology]

Buttlift technology is a patented technology used in the LC Opus. The problem with stereolithography 3D printers is that the modeled object sticks not only to the bed but also to the vat containing the material, resulting in a failed model. The part must be lifted off the bottom of the vat to load new resin for the next curing cycle. The following actions will allow you to separate the modeled object cleanly.

Print layer material hardens

The butt lifts diagonally while the build plate is rising, causing the bad film and screen plate to separate.

The bat returns to its original position and prepares for the next layer


[LC Opus Workflow]

Load your CAD files into Photocentric Studio and have them ready for printing in just a few clicks.

Using Vat-Lift technology, we realize stable molding one layer at a time.

Clean the printed part and remove excess resin.

Harden the part and make it ready for use.
【Photocentric STUDIO】

Create modeling data with the dedicated software "Photocentric Studio". It supports a large number of CAD formats and has many functions that help efficient production.

Increased productivity: Automated batch processing allows you to get the most out of your platform. Orient, move, scale, copy and mirror 3D models automatically and manually.

Optimized Automatic Support Generation: Provides an optimized automatic support generation algorithm to minimize software preparation time. Automate with ultra-fast multiprocessing. In addition, it is equipped with pre-set support profiles according to the type of resin and the shape of the part.

Automatic detection of critical support areas: Automated analysis tools identify where support structures are needed. In addition, it is equipped with a multi-platform to support large-capacity modeled objects.

Drain holes, recesses, and infills: Models such as drain holes, recesses, and infills can be optimized to reduce resin usage. Increase success rate, save material and reduce weight.


[Post-processing of 2STEP]

Ancillary equipment that maximizes the properties of materials LC Opus is a set of washing equipment "Wash 15" and curing equipment "Cure M+". A cleaning device efficiently removes excess resin, and a curing device strengthens the molded object to achieve higher quality.
Photocentric Wash 15
Ideal for removing resin adhering to objects with complex shapes

Accommodates parts up to 300 x 275 x 120 mm

Allows 140 washes before changing fluid

15L capacity

Photocentric Cure M+
Optimizes strength and dries parts to maximize material properties

Large capacity of 260 x 270 x 350 mm, no need to remove parts beforehand

By operating the digital timer, you can adjust the time and harden the modeled object.

20 minutes after placing the print in the Cure M+, the printed part is dry, strong, and has maximum material properties.


[Photocentric Resin Cleaner]
Photocentric resin cleaners have been developed for optimal cleaning of parts printed on Photocentric machines. Parts with a special resin cleaner can be cleaned even in complex shapes and hard-to-reach gaps, and the surface can be finished very cleanly compared to cleaning with IPA. In addition, it is easy to handle because it does not correspond to dangerous goods and the frequency of replacement is low.

製品名

LC Opus

メーカー

Photocentric

国名

England

造形方式

DLP

本体サイズ

415×475×605mm

本体重量

38 kg

使用可能材料と形状

・UV Dental Model
・UV castable
・UV High Tensile
・UV DLP Hard
・Rigid UV240 Plant-Based
・Durable UV80
・Durable UV80TR
・Flexible UV160TR
・Part of materials manufactured by BASF
・Part of materials manufactured by Henkel

積層ピッチ

0.025 - 0.3mm

造形速度

18mm/h

電源

110-230VAC, 50/60Hz

消費電力

500W

スライサーソフト

Photocentric Studio

TDSダウンロード